Honoring our brave veterans…..

                                                 
                                
Our  Martin Luther King, Jr. Display
….and our First in a Series Books Display!
(interestingly, there can be 2 in a series or 35! )
        Russ Johnson is a gifted woodworker and designer of metal sculptures.
        We have some of his wooden decoys & fish and a swordfish metal sculpture on display
         in our showcase.  (2/16/2017)
So what's a the "hoopla" about you as?  It's exciting!  It started May 1st.  It's a new digital media service with over 500,000 titles …instantly available!  No waiting! You will have immediate access to movies, full music albums, eBooks, eAudiobooks, TV episodes, comics, and graphic novels.  Sign up now!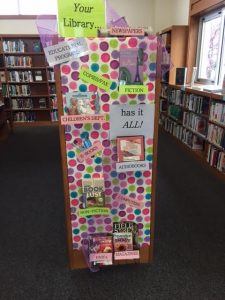 This is a neat display about what
all the library offers it's patrons.
Check it out!
This is our "Poet Tree!"
Come by and read up on
some of the best loved
American Poets.
                                  Our Happy Spring display!                                                                                                                                       One of America's greatest living writers.. David McCullough