(2017)
                                
                                    Our  Martin Luther King, Jr. Display
….and our First in a Series Books Display!
(interestingly, there can be 2 in a series or 35! )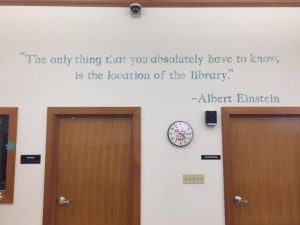 Russ Johnson is a gifted woodworker and designer of metal sculptures.
        We have some of his wooden decoys & fish and a swordfish metal sculpture on display
         in our showcase.  (2/16/2017)
                                                                                   (2018)
So what's all the "hoopla" about you ask?  It's exciting!  It started May 1st.  It's a new digital media service with over 500,000 titles …instantly available!  No waiting! You will have immediate access to movies, full music albums, eBooks, eAudiobooks, TV episodes, comics, and graphic novels.  Sign up now!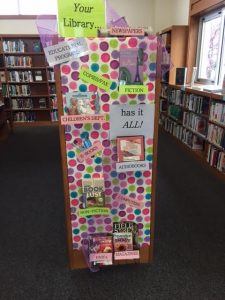 This is a neat display about what
all the library offers it's patrons.
Check it out!
This is our "Poet Tree!"
Come by and read up on
some of the best loved
American Poets.
     Our Happy Spring display!
One of America's greatest living writers,  David McCullough
Barbara G. Mertz, an American author and
Egyptologist  a.k.a authors Elizabeth Peters
and Barbara Michaels.  (9/29/1927 – 8/8/2013)
                                                                                  Library Card sign up month!  Your passport to the World!
Wooden Spinners Class  on August 29th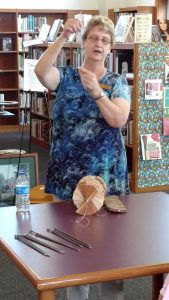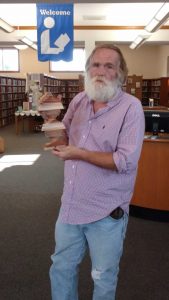 DNR  representative Dana Reckelhoff presented a very interesting
presentation "Land Under the Lake" Patoka.  Sept 21st.

Banned Book Week
September 23 through  September 30th
Pumpkin making class October 24th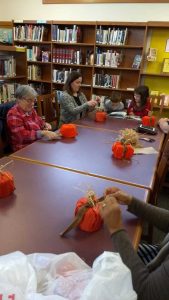 We have some new displays upstairs in our adult section. Featured author, Richard Paul, our "gourmet reading" book selection, a display honoring our veterans, celebrated chef barefoot contessa, and our Thanksgiving tribute.
the Inaugural
Christmas Corner Boutique !
Opening Saturday, December 2 at 10:00 AM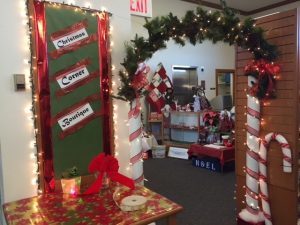 Open during regular library hours (closed Wednesday and Sunday)
Open to area communities and shoppers of all ages!
6″ Poinsettia plants on sale now for $10 each.
---
A nice turnout of patrons and Friends to make their very own jewelry boxes
May 22, 2018 Spinning Wheel demonstration by Autumn Bough
June 2018 Family Mobile